Friends of the Uniformed Services University, Inc.
The Friends of the Uniformed Services University, Inc. is an all-volunteer membership organization incorporated in the state of Maryland as a 501(c)(3) organization. Led by a volunteer Board of Directors and working in close collaboration with The Henry M. Jackson Foundation for the Advancement of Military Medicine, Inc., this organization seeks to support the Uniformed Services University of the Health Sciences (USU), the nation's fully accredited school of medicine and graduate school of nursing.
Fighting for Life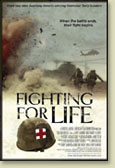 "Fighting For Life," the highly praised feature documentary by two-time Academy Award-winning filmmaker Terry Sanders, is an authentic and riveting odyssey into the world of military medicine in a time of war. The film also tells the story of USU and follows students at the University on their journey toward becoming career military physicians and nurses.
The powerful 89-minute film captures the skill, dedication and compassion of military doctors, nurses and medics as they fight to save lives and limbs in combat hospitals in Iraq, military hospitals in Germany and the U.S., and aboard "flying ICUs" 40,000 feet in the sky. The film also captures the courage and dignity of the wounded and their determination to survive and to heal.
"Fighting For Life" premiered in New York City on October 5, 2007. It entered theatrical release in the spring of 2008 and was broadcast nationally on PBS on Memorial Day Weekend, 2009.
In spring 2008, "Fighting for Life" won the Medimedia Freddie Award (International Health & Medical Media Awards) as a 2008 finalist in the field of Communications. The award was presented to Terry Sanders, producer/director and Tammy Alvarez, executive producer.
In April 2010, "Fighting For Life" won the prestigious MORE award presented by the American Academy of Orthopedic Surgeons (AAOS).
The film is currently available on DVD.
To find out more about "Fighting for Life," you can watch the trailer and purchase the DVD, by visiting www.fightingforlifethemovie.com.
Thank you for your continued support,

Thomasine Ilyas Alvarez, President
The Friends of USU