A Spotlight on Uniformed Services University Alumni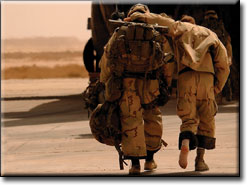 USU alumni are serving in hot spots around the world and in their respective communities as medical professionals. Some notable contributions are described below:
Classes of 1981-1989
Brig. Gen. Paul Casinelli, SoM '80, serves as the Assistant Surgeon General for Readiness, Mobilization, and (Army) National Guard Affairs.

Rear Adm. Michael Anderson, SoM '81, is Navy Medical Inspector General for the Marine Corps.

Brig. Gen. Donald Bradshaw, (ret.) SoM '81, was the commander of the Southeast Regional Medical Command for the U.S. Senate Committee on Veterans' Affairs and commanding general of Dwight D. Eisenhower Army Medical Center.

Rear Adm. E. Connie Mariano, (ret.) SoM '81, wrote about being the first military woman to become the White House Physician to the President, first woman director of the White House Medical Unit and the first Filipino American in U.S. history to become a Navy Rear Admiral.

Brig. Gen. William Germann, (ret.) SoM '82, was the command surgeon of the Air Force Materiel Command at Wright-Patterson Air Force Base, Ohio.

Brig. Gen. (P) Joseph Caravalho, Jr., SoM '83, is commanding general of the U.S. Army Medical Command's Northern Regional Command.

Rear Adm. C. Forrest Faison, III, SoM '84, serves as deputy chief of the Bureau of Medicine and Surgery for Current and Future Healthcare Operations and commander of the Naval Medical Center San Diego and Navy Medicine West.

Rear Adm. Sandra Kweder, SoM '84, is deputy director for the U.S. Food & Drug Administration's Office of New Drugs and Center for Drug Evaluation & Research.

Brig. Gen. Christopher Knapp, SoM '85, serves as Air National Guard Assistant to the Command Surgeon of the Air Combat Command at Langley Air Force Base, Va.

Brig. Gen. Sean Murphy, SoM '85, is the commander of the Air Force Medical Operations Agency, Lackland-Kelly Air Force Base, Texas.

Brig. Gen. Kory Cornum, SoM '86, is the commander of the 81st Medical Group at Keesler Air Force Base, Miss.

Brig. Gen. Rhonda Cornum (ret.), SoM '86, was the first female commander of the Army's Landstuhl Regional Medical Center in Germany and is Director of Health Strategy for TechWerks

Lt. Gen. Thomas W. Travis, SoM '86, is surgeon general of the Air Force.

Maj. Gen. Byron Hepburn, SoM '87, is commander of the 59th Medical Wing at Wilford Hall Ambulatory Surgical Center, Lackland Air Force Base, Texas.

Brig. Gen. Timothy Jex, SoM '87, is the commander of the U.S. Air Force's 711th Human Performance Wing.

Colonel (P) John Cho, SoM '88, commander of the Army's 30th Medical Command.
Classes of 1990-1999
Rear Adm. Sarah Linde-Feucht, SoM '92, is a board-certified family practice physician, and chief public health officer at the Health Resources and Services Administration.

Brig.-Gen. Jean-Robert Bernier, MPH '97, is the surgeon general and commander of the Canadian Forces Health Services Group.